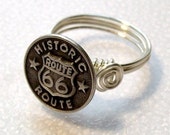 Awsome,"Route 66" metal button ring! This button has a lot of detail. I wire wrapped the ring added handmade wire coils, and added swirls to the sides.The 20g wire used for this great nostalgic ring is permanent colored nontarnish silvertone. I have 2 of these buttons, so you may specify size. Very cool present for Christmas!
Specify size
button size- 5/8" a little over
&qu...
Click Here to Visit My Etsy Shop!